When looking for a mobile home or manufactured home for sale, it can be somewhat confusing. The terms are often used interchangeably, but there are important differences.
What are mobile homes and manufactured homes?
Both mobile homes and manufactured homes were both built off-site in a warehouse. These prefabricated homes were then transported to the location where they're set and permanently affixed to the ground. They are often placed in mobile home communities next to other mobile homes.
These mobile and manufactured home communities are a far cry from the outdated term "trailer parks", as they are more commonly well-kept with beautiful grounds and offer loads of resort-style amenities.
Manufactured and mobile homes are often much more affordable than traditional houses, referred to as site-built homes. Site-built homes are built on-site, hence the name, and construction can be expensive and experience delays due to weather.
Perhaps you've already concluded that a mobile home or manufactured home is going to be a more affordable housing option, especially if it is pre-owned, but you're still wondering, "What's the difference between a mobile home and a manufactured home?"
What are mobile homes?
Believe it or not, the easiest way to tell the difference between a mobile home and a manufactured home is the date they were built.
Mobile homes are any homes that were built in a factory prior to June 15, 1976.
What are manufactured homes?
After that date, the U.S. Department of Housing and Urban Development (HUD) put the Federal Manufactured Home Construction and Safety Standards (commonly known as the HUD code) into place.
The HUD code established minimum property standards (MPS) for buildings constructed under HUD housing programs. Any off-site built home after 1976 is considered a manufactured home and meets the following standards:
Design and construction
Frame and body requirements
Thermal
Plumbing and electrical
Fire safety
And more
You should be able to find a certification label on the outside of each section of a home that was transported to see whether it is a mobile home or a manufactured home.
Manufactured homes may be single or multi-section. As such, there are several options depending on how much space and customization you are looking for.
Park Model
Park models, or tiny homes, aren't actually mobile homes or manufactured homes, even though you'll often find them in mobile home communities.
Park models are classified as recreational vehicles. They are less than 14 feet wide and under 400 square feet.
Single Wide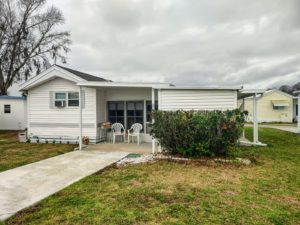 Single wide mobile homes and single wide manufactured homes are the most commonly recognized type and size of prefabricated housing.
A single wide is exactly what it sounds like; it's a manufactured home that has been built on a single chassis and only has one title. Single wides are considered very versatile factory homes because they offer many layouts in a small footprint.
Single wides are typically the least expensive manufactured homes for sale.
Double Wide
Double wide manufactured homes are typically the most common and sought-after, as they are more spacious than single wides.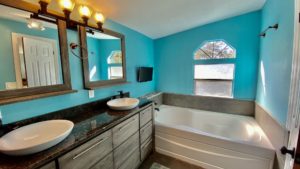 A double wide comes in two sections and is transported from the factory to the location where it sits. The two sections are seamed together, or connected, on-site.
The layouts and features of a double-wide manufactured home seem to be endless. You can have a huge master bathroom or full-size laundry room, a screened-in and air-conditioned Florida room, or any other customization feature.
Double wides have two titles, normally referred to as an A side and B side. If you're buying a double wide home for sale, make sure you transfer the titles on both sides of your home.
Triple Wide and Quad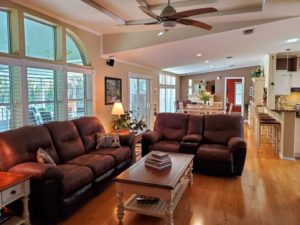 If you want to buy a prefabricated home and are looking for a lot of space and luxury, you can sometimes find manufactured homes that we refer to as triple wides or quads.
These homes come in three or four sections from the factory and are seamed together on-site. They allow for very large layouts, big rooms, open floor plans, and a variety of configurations.
We hope this article gave you a better understanding of the types of prefabricated homes that are available on the market as you search for a manufactured home for sale.
Visit fourstarhomes.com or give us a call so that one of our professionally-trained sales agents can help you find the home of your dreams.