There are many things people assume about our manufactured homes for sale. We're debunking four misconceptions below that you may find peculiar.
Misconception #1: Manufactured Homes Are Built With Cheap Materials 
Manufactured homes are built to meet the expectations of the National Conference of States on Building Codes and Standards. And trust us, manufactured homes cannot pass using cheap materials! 
Most manufactured homes for sale are built using the same materials, if not stronger materials for transportation, as site-built homes. No need to worry about this! You can find even more information on this from the FMHA here.
Misconception #2: All Manufactured Homes For Sale Look The Same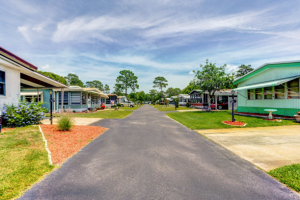 If you've ever looked at our listings, you'll be able to understand how our homes are unique and charismatic. There is a wide variety of features and customizations available when building a manufactured home from scratch. 
Click here to view some of our most popular homes for sale. From the layout to the location, each one offers a different experience and lifestyle that we're sure you will appreciate! 
Misconception #3: It's Hard To Find Manufactured Homes For An Affordable Price 
If we can emphasize anything, it's the affordability factor when it comes to investing in a manufactured home. Not only do you get a great home, but you're also given access to the community and all of the amazing amenities. It's a win-win situation!
Misconception #4: Manufactured Homes Will Blow Away During Hurricane Season 
Although we're sure you've seen this type of visual in movies, we can assure you that this is very unlikely. You'll be glad to hear that modern manufactured homes for sale are actually built to meet the same HUD standards for strength, construction and wind resistance as site-built homes. 
This means that regardless of hurricane-force winds, your manufactured home was built to withstand this kind of pressure. These homes even have to pass a rigorous inspection from a third-party source to ensure they are 100% safe for living. Click here to learn more from the FMHA.  
We have hundreds of manufactured homes for sale that could have your name on them. Contact one of our agents today to set up a viewing in your favorite location!