We often get asked the benefits of investing in used mobile homes for sale. Although it was tough to narrow them down, here are three that might excite you the most.
Save Money In The Long Run
Think of used mobile homes for sale like pre-owned cars. Sure, they may have been in someone else's possession before, but they're much more cost-effective in the long run. When you invest in a used mobile home, you're able to save a lot more money and you can do what you want with it.
Most of our mobile home communities also offer numerous amenities and perks. The money you would be spending on an apartment could actually have a much better value in a mobile home community with similar amenities, plus your own yard and driveway! 
Click the infographic below to learn about how manufactured home living is an affordable alternative: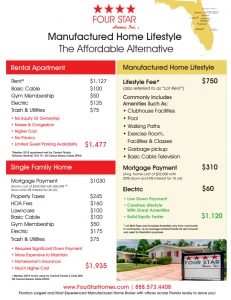 Be Picky About The Location
When you're searching for used mobile homes for sale, you get to be picky about where exactly you want to live because there will be options everywhere. While the home you choose is important, the community where it sits has a wide variety of features, such as clubhouse, pool, tennis, pickleball, bocce ball, and even golf! 
Think about which beautiful Florida city you want to live in and let us know! We'll pair you with an agent who will learn about your must-have features and amenities, and pair you with the perfect mobile home. It's what we love to do! 
Renovate Your Heart Out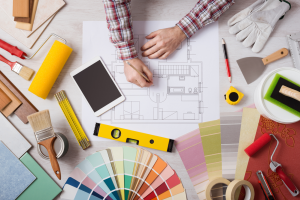 Did someone say DIY project? Buying a used mobile home is great for so many things, but one of the best perks is the opportunity to renovate it to feel like home. We love to see our residents transform the inside and outside of their mobile homes to fit their personalities. We even wrote a blog about design tips to help you out! 
Because you'll be saving so much money in the long run, you'll have more funds to invest in the design of your new house. This is a great way to get acclimated in the neighborhood and make the transition that much easier for you. Plus, when you host the community potlucks, you'll be glad you aren't paying an arm and a leg in rent, and you were able to make it a special place for guests to visit. 
For more information about our used mobile homes for sale, be sure to contact us today! Our agents are always eager to help our customers find their ideal mobile home in the community that fits them best.