Planning on moving to the Sunshine State to enjoy warm weather all year round? Here's our go-to guide to find the best mobile home park in Florida.
What Type Of Mobile Home Park In Florida Is Ideal For You?
Senior Park
A "senior park" is generally restricted to people who are over 55 year of age and there are mobile home parks in Florida that will cater to those who just want to sit back, relax and enjoy the fruits of their labor. You will find like minded people in these communities where you can enjoy retirement in style! Senior parks usually feature amenities such as pools, billiards, clubhouses, hot tubs, and more to truly portray a resort lifestyle. Just imagine yourself lounging by the pool with the sun beaming down on your face while sipping on a refreshing cocktail. It truly doesn't get better than that! Browse our available listings in senior parks to find your dream home today.

Adult Park
An adult community may have different requirements, but limits full time residents to those that are over a certain age (usually 18), but not necessarily over 55. Children are welcome to visit, but are not allowed to permanently reside in these parks. Typically, "empty nesters" enjoy adult communities, because of the carefree lifestyle and activities. Besides having all the amenities usually included in other parks, adult parks also feature more activity-based facilities like game rooms, fitness centers, tennis courts, basketball courts, and volleyball courts. Some even have scheduled events and activities such as karaoke, dancing, and more. You'll never get bored living here thanks to the active and fun lifestyle that adult parks offer.
If this sounds like your dream mobile home park in Florida, browse our available listings for adult parks to find the perfect home for you.
Family Park
Florida is famous for its world-class beaches, theme parks and attractions. So, it's no surprise that many families dream of living in the Sunshine State where their kids can enjoy the luxury of exploring Walt Disney World Resorts, Universal Orlando Resorts, and many more. Florida is also ranked 3rd in the National Ranking for Education, which is part of the list of reasons why Florida is a great home for families! With that in mind, family parks offer affordable options for families to buy a manufactured home, enjoy amenities and live in a great neighborhood. There are no age restrictions in a family community and you will usually find playgrounds and family friendly activities for everyone to enjoy.

If you and your family dream of spending the weekends enjoying a fun theme park day together, venturing off to the beach or just exploring Floirda, you'll love the location options for a family mobile home park in Florida. We have many available listings for you to choose from and the best part is they're only a few miles away from all the exciting attractions!

Why Choose Four Star Homes?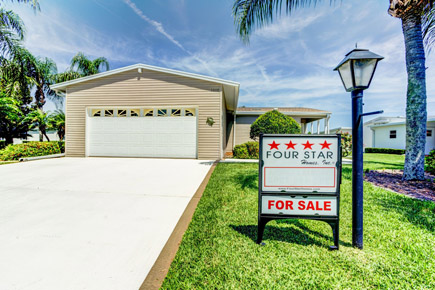 We understand that finding an ideal mobile home park in Florida can be a very challenging task. Everyone's dream lifestyle is different and there are so many options to choose from! With over 38 years of experience, we can confidently say that our agents will go above and beyond to help you find the dream home you deserve. Don't just take our word for it, see what our clients have to say about working with us:
"JoAnn Martell with Four Star Homes was amazing. Every step of the way she was very helpful and accommodating. The process of buying a new home couldn't have been easier. Her office was also awesome as they handled all the legal stuff with ease. I would highly recommend both JoAnn and Four Star Homes!!!" – Sharon Peters 

We hope this guide will help you decide which mobile home park in Florida is best suited for your desired lifestyle. For more information about our listings or to schedule a private viewing, contact us today!