When you're selling your mobile or manufactured home, you want it to be easy.
You might think that listing your home yourself will be easier than hiring an agent. It may also seem like a cheaper option. If you list it yourself, that means you don't have to pay anyone sales commission, right?
Yes, but…
There are all kinds of hidden costs and inconveniences when you choose to list "for sale by owner", or FSBO.
Before deciding to go the FSBO route, we offer you these considerations.
Sale Price
How much do you want to list your home for? How much will it sell for?
Without a full understanding of the market, you may price your home wrong.
If you list your home too high, it could take many months to sell at that price—if it even sells at all.
If you list your home too low, then you could be missing out on potential profit from the sale.
At Four Star Homes, our experienced sales agents determine the best listing price by performing a Comparative Market Analysis. We calculate the right price for your home using a variety of factors such as location, size, community and amenities, upgrades, model year, and more.
Not only has Four Star Homes been in business since 1982, but manufactured homes are our specialty. We sold more than 2,200 mobile and manufactured homes in 2021!
We know how to price your home right so it sells.
Time To Sell
Besides the list price, the amount of time it takes to sell your home can also affect your overall profit.
When you list for sale by owner, it can take much longer to sell your home. Each month the home is vacant, that is another month's lot rent you have to pay.
For example, say you list FSBO and your lot rent is $700 a month. If it takes 8 months to sell, that is $5,600 that has racked up in lot rent alone.
That's more than you would typically spend on commission!
Homes listed with Four Star Homes average less than 100 days on the market. At the same rate in the example above, you would only pay $2,800 in lot rent in that amount of time.
Remember: the quicker the sale, the higher your profit.
Marketing Costs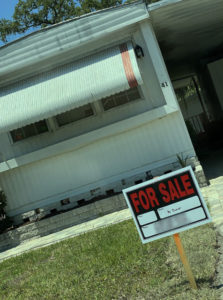 If you're listing your manufactured home FSBO, chances are you're planning to pay little to no marketing costs.
Aside from putting a "for sale by owner" sign in your mobile home window or yard, or perhaps even listing on Facebook Marketplace, you might not even know how to reach audiences interested in purchasing your manufactured home.
Four Star Homes has a robust marketing program that includes print and digital advertising. All homes are attractively listed on our website which gets more than 4 million annual pageviews.
What's more, is that we have a network of more than 150 professional agents that work together to connect buyers and sellers. It is not uncommon for one of our sales agents to close on a home that was listed by another one of our agents!
Better yet, there is no additional cost for marketing when you list your manufactured home with Four Star Homes!
Other Considerations
If you're still thinking about listing your home for sale by yourself, consider these additional points.
As the owner, you would be responsible for:
Answering the phone when potential buyers call
Showing the home to people you have never met before
Doing all of the title work
Managing the money from the sale
You might think you're saving on paying a commission, but you are paying with your valuable time.
Why not let Four Star Homes handle all of the details for you?
We'll:
Professionally show the home
Prequalify potential buyers to avoid wasting your time or compromising your safety
Draw up the legally binding contract with the buyers and hold money in an escrow account
Handle all the paperwork and legalities of the sale transaction, including credit authorization, title work, taxes, payoffs, inspections, and more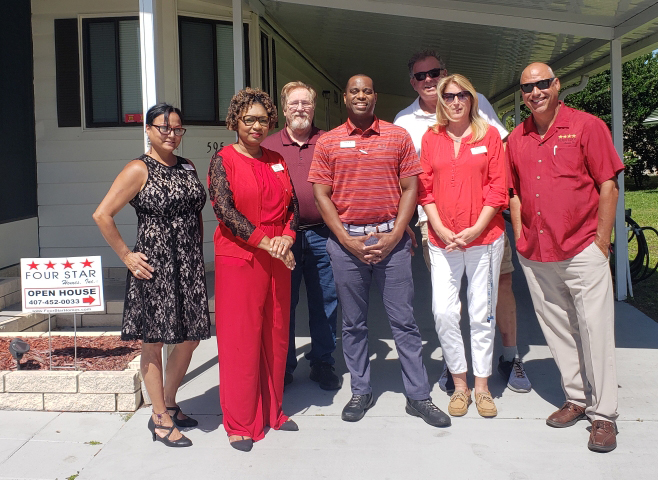 At Four Star Homes, we want the sale of your manufactured or mobile home to be as stress-free and profitable as possible.
Contact one of our Central Florida offices today for a free Comparative Market Analysis on your home.