There's a reason why Four Star Homes is Central Florida's largest and most experienced manufactured home broker.
Not only have we been in the business since 1982, but we also have more than 150 agents based out of offices across Central Florida. Many of these agents live in the mobile home communities they serve, making them experts on the lifestyles afforded by living in a manufactured home.
Last year alone, we successfully sold more than 1,650 homes. In fact, Four Star Homes is responsible for 1 out of 10 manufactured home resales in Florida!
Homes listed with Four Star average less than 100 days on the market. How do we do this?
Professional Marketing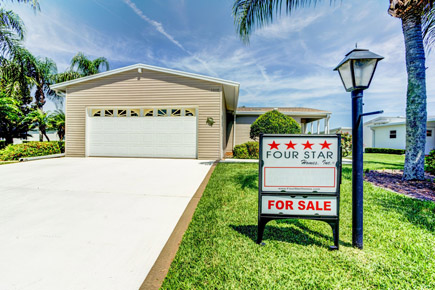 Professionally-marketed homes sell quicker than when you try to sell on your own, otherwise known as "For Sale by Owner" or FSBO.
When you sell your mobile home more quickly, that saves money on lot rent, not to mention utilities.
At Four Star Homes, we have a proven marketing strategy that expands the reach of your listing to more buyers.
Thousands of buyers visit our website every day to look for their next home.
We promote your mobile home listing on national websites and local publications to get even more eyes on your home.
We host open houses.
Our agents network across offices to help serve home buyers and sellers.
Agent Services
Another benefit of skipping the FSBO route is a hassle-free sale. Less hassle means less time wasted on getting your home sold.
Our highly-skilled and professional agents and staff:
Perform a comparative market analysis to help determine the best listing price for your mobile or manufactured home at the right value to attract buyers.
Handle all the paperwork and legalities of the sale transaction, including credit authorization, title work, taxes, payoffs, inspections, and more.
Pre-qualify potential buyers to avoid wasting your time or compromising your safety with unqualified, ill-intentioned shoppers.
Can assist buyers with financing.
Name You Can Trust
As the largest and most experienced mobile home broker in Central Florida, we've made a name for ourselves. Manufactured and mobile home buyers specifically seek out Four Star Homes when searching for a home.
As a family-owned business, Four Star Homes strives to follow Biblical principles in our business dealings and practices.
We are committed to a high standard of excellence delivering quality transactions built on our company's four pillars:
Experience
Integrity
Excellence
Results
At Four Star Homes, we truly believe that people are our business. In fact, most of our sales come from repeat customers and referrals!
Just take a look at some of the reviews we've received from happy sellers: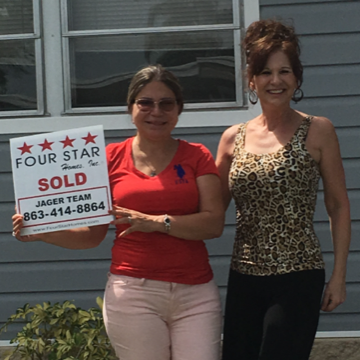 "There are not enough words to say how pleased we are with Four Star Homes and their stellar agent, Ruby Bowman. Our first listing with her sold within 7 hours of posting. The last listing sold before she could get it posted. The buyer saw the Four Star sign and knew that they would get treated well and fairly. Thank you, Ruby Bowman, for being AMAZING." -Pamela Melton
"Carolyn was great to work with. She said our home would sell within three months, and it did! Thank you, Four Star!" -Julie C.
"Our house was sold in one day! We have sold and purchased many homes in our lifetimes, and without a doubt this is the easiest and smoothest transaction ever." -Calene G.
"I found dealing with manager Tony and representative Corali a great pleasure who made the trauma of selling our winter home in Florida much easier on us than what I had imagined. We received a fair price and they handled the whole transaction with both professionalism and courtesy. I highly recommend this company, and these folks in particular to anyone interested in selling or buying for that matter." -Bob B.
As the leader in mobile home sales, Four Star Homes is more likely to sell your home than the community, other companies, or on your own.
Contact us today and let's get your mobile home or manufactured home SOLD!