Is it finally time to make the move? We're sharing our go-to guide for finding the perfect mobile homes for sale.
Step One: Pick A Desirable Area To Live In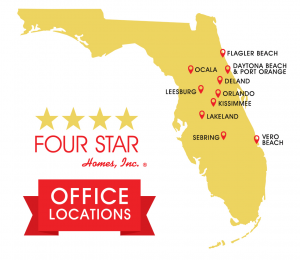 The first step to finding your perfect mobile home match is choosing which area you see yourself living in. Do you want to live by the beach, by the lake, in a hustle-bustle city, or in a quiet town? These are among some of the questions you should ask yourself when deciding to relocate.
At Four Star Homes, we serve all of Central Florida, from Flagler Beach down the coast to Daytona Beach, extending south to Vero Beach and across the state to Deland, Ocala, Lakeland,  Kissimmee and Sebring. Within this radius, we serve manufactured and mobile home communities that offer experiences of all kinds. We can help you find the lifestyle you're looking for after choosing which area of Florida  where you'd like to reside.
Step Two: Take A Look At Our Communities Page 
Our communities page lists all of the mobile home communities we serve. To explore all of these great neighborhoods, just click on a particular area (which is separated by counties) to find a running list of the communities within those counties. 
When searching for mobile homes for sale, it's important to select a community that aligns with your lifestyle. Each of our communities is sorted by park type (family, adult and 55+), has a series of amenities listed, and explains what you can expect from the area. Once you decide on the communities you're interested in, you can then reach out to one of our agents to help you narrow down your decision. Or, if you are having trouble picking the right community, our knowledgeable agents can help! 
Step Three: Contact One Of Our Agents To Schedule A Tour To See Mobile Homes For Sale
Among all of the mobile home communities and homes for sale, you've finally decided on a couple you have your eye on, and you're ready for an expert opinion to finalize the process. Our professionally trained sales agents are extremely knowledgeable about all of our mobile home communities, as well as the experience you can expect from living there. 
If there's anything we recommend when it comes to seeking mobile homes for sale, it's to allow us to help you find the perfect home for the right price. With almost forty years of experience, trust Four Star to help you find the right home and live in the place you have always dreamt about. Contact us today to put your mind at ease and find your next community and home!