While we have hundreds of mobile homes for sale, it's become clear to us that not everyone knows exactly what they're getting. We're sharing the difference between mobile and manufactured housing in our industry.
When you think of 'off-site built housing,' what comes to mind? Most people immediately imagine a trailer park home or a mobile home on wheels that they've seen from movies. However, there are differing definitions of off-site built housing that fall into two categories: Mobile and Manufactured Homes. While Four Star Homes has both manufactured and mobile homes for sale, the process in which they are built is not the same. We're sharing the difference below! 
Mobile Homes
When you break down the phrase "mobile homes," it's common for people to imagine a house on wheels – a home that is actually mobile! While this definition was accurate at one point in time, it is now an outdated concept that no longer meets the standards of the National Mobile Home Construction and Safety Act, which clearly distinguished between manufactured and mobile homes. 
In 1976, the HUD Manufactured Home Construction and Safety Standards (also known as the HUD Code), implemented additional standards for the off-site built homes, including: 
Building standards 

Design and construction 

Frame and body requirements 

Thermal 

Plumbing and electrical 

Fire safety 

Energy efficiency 

And more! 
The purpose of the HUD Code was to improve the quality and durability of manufactured homes, making them more sustainable over time. It is now the only federally-regulated national building code that relates to home construction. 
Manufactured Homes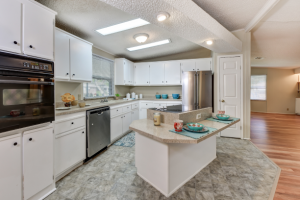 There is a much more modern approach to manufactured housing nowadays due to the evolution of mobile homes. The term manufactured housing relates to homes built according to the new standards after 1976. Manufactured homes can be found in three standard sizes: single-wide, double-wide and triple-wide. You can find this information on the listings on our website! 
Manufactured homes have done a complete 180 since 1976, making these homes an incredibly affordable, durable housing solution. The customizable features are relative to site-built homes, and the communities they reside in provide an experience that can't be bought.
Click here to view some of our communities and the amenities that make them so special! 
For more information about our mobile and manufactured homes for sale, contact us today or reach out to one of our agents! We'd be happy to help you find the perfect home for this phase of your life.