There's no limit to your creativity when it comes to mobile home design. We're equipping you with the basics to get started livening up your space!
Many hold onto the misconception that all mobile homes look like an old outdated "trailer", but these newer homes are amazing! You can make your mobile home look and feel exactly the way you want. You'd be surprised at how differently you'll view manufactured homes once you get creative with mobile home design.
Designing The Interior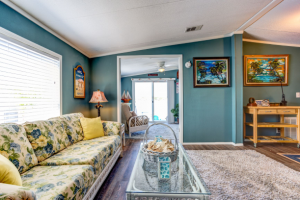 Your mobile home design should have a purpose. This is your chance to have fun by picking a style, color palette and textures that will make your new place feel like home. There are many themes to choose from: Industrial, bohemian, rustic, modern and much more. Remember, you can do an awful lot to change the look with simple things like paint, flooring and even light fixtures. 
Abandon the fear of not going along with convention and you'll realize you can have the home of your dreams, while still keeping in line with your budget.
It's your home….make it what you want!  Check out this example of a modern mobile home design to get inspired!
Designing The Exterior
What's on the outside also counts when planning out your mobile home design. Creating an attractive exterior to reflect what the public doesn't see on the inside is key to taking pride in your living space. With the money you'll be saving when you purchase your manufactured home, you can pour it into giving the outside a face-lift. 
Look into a new paint job for a fresh look or if you really want to change it up, pick new siding to install. You can also replace and update doors and windows. For an easy upgrade with not much work, consider painting your exterior doors a fun, new color. If you're looking to stay grounded in the same place and make your place more permanent, there are very unique front porch design projects you can take on.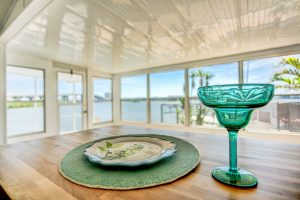 Having a porch can help create more space and allows you to combine materials to make the outside look even better. Some houses even choose to insulate their porch and run air conditioning to create additional living space. You can see some examples of what these homes have on the exterior by looking at pictures of our listings. Last, but not least, make finishing touches on the landscape by picking your favorite flowers and shrubbery to complete the look.
Of course, not everyone has the time or energy to make these home improvements themselves. Contact us today to find the perfect move-in ready home.