As Central Florida's largest and most experienced mobile and manufactured home broker, we have hundreds of listings to choose from.
Whether you are looking for a home in a 55+ and up senior community or need one in an adult or family park, we have something for everyone.
With the housing market what it is today, we understand that many are home shopping on a budget. That's why we offer several ways to find the perfect home for you!
10 Lowest Priced Listings
At Four Star Homes, we list manufactured and mobile homes in a wide variety of price ranges.
On one end of the spectrum, we have Prestige Homes. But another very popular search on our website is our 10 Lowest Priced Listings.
This list is a great place to start if you are considering manufactured housing and want a great bargain. It is also ideal if you don't have a big budget for a home purchase or would rather pay cash instead of financing your manufactured home.
Oftentimes, but not always, these homes are on the smaller end as far as square footage goes. So if you don't need a ton of space or want a tiny home, our 10 Lowest Priced Listings could be exactly what you're looking for!
Price Reduced in the Last 30 Days
There are several reasons why a home's listing price will be lowered.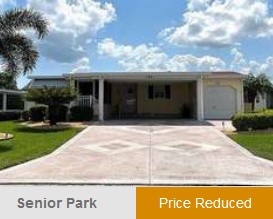 While we always recommend our sellers list at our ideal price based on the comparative market analysis that we perform, the decision is ultimately up to the home seller. As such, the original list price can sometimes be higher than the predicted market demand.
If a home has been on the market longer than desired and the seller wants a quicker sale, they can also choose to lower the list price.
On occasion, a seller's situation changes. For example, if they decide to purchase a new home, they may need to sell their existing home before they can buy. This increases their motivation to sell and can result in a list price that is lower than the original.
Whatever the case may be, buyers tend to act quickly once the price of a home has been reduced.
Be sure to bookmark this link to view all homes listed by Four Star Homes that have had their price reduced in the last 30 days.
DID YOU KNOW?
Four Star Homes has seven service areas across Central Florida: DeLand, Fruitland Park, Lakeland, Orlando, Port Orange, Sebring, and Vero Beach.
If you are looking for a manufactured home in a particular location, you can save one of these searches which are filtered by area:
Set Your Minimum and Maximum Price Range
When browsing manufactured homes on our website, there are a lot of different ways to narrow down your search.
You can select the general area or specific city, browse different property types (including real estate listings), or select your desired number of bedrooms and/or bathrooms.
Included in the top filtering options is the ability to set a minimum and/or maximum price.

Many home shoppers find this to be extremely helpful, as they won't be tempted to look at manufactured homes that are out of their price range. If you have been pre-approved for financing up to a certain amount, this search option is an absolute must!
This feature can be especially helpful to those that are flexible on the specific area in which they wish to live but have a maximum price in mind. They might find they get more bang for their buck in one area versus another.
Sort by Price (Lo-Hi)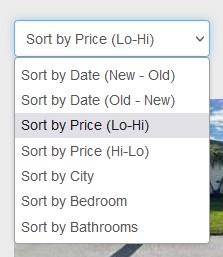 If you don't have a set price range for your manufactured home purchase, that's okay! There are still ways to find a deal.
In this case, we recommend sorting your search results from low to high.
This filter option can be found in a dropdown menu above the search results on the top left, just below the initial search options at the top of the page.
Whenever you have a specific area or even a manufactured home community in mind, you can start at the results with the lowest prices and work your way up. They will always begin after the featured listings.
Work with an Experienced Four Star Homes Sales Agent
The above suggestions are great if you prefer to go the DIY route or want to do some initial research before you begin your Central Florida manufactured home search.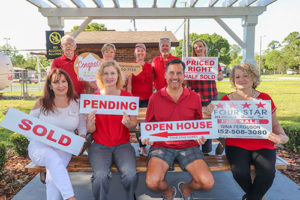 But if you are ready to buy now and have a general idea of your home budget or the area in which you wish to live, our mobile home sales agents can save you a lot of time by performing the search for you!
Not only are our sales agents highly familiar with the different areas and mobile home communities in which we sell, but they are also experts at finding the right home for your budget.
What's more, is that many of our agents live in the manufactured homes communities in which they sell!
To get in touch with an agent, use our online form. You can share any information you like such as budget, desired home size, or location. We'll get you connected with an agent that can help you find a great deal on a Central Florida manufactured home.