If you're looking for a great social life after retirement, look no further than a 55+ manufactured home community in Central Florida! Many have year-round events and special holiday celebrations to give residents the opportunity to have fun and mingle.
The Lakes at Leesburg is no exception. In addition to their much-anticipated annual golf cart Christmas parade, their entertainment committee throws events for nearly every holiday.
This year for Halloween they hosted a Vampires Ball, complete with a DJ, snacks and appetizers, spooky decor, and a costume contest.
Pam O'Grady, Lakes of Leesburg board member and resident, filled us in on the festivities. (She's also a Four Star Homes sales agent!)
---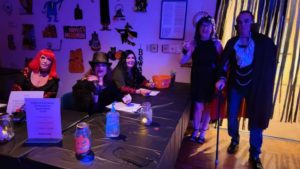 Four Star Homes: How long has the Lakes at Leesburg Halloween party been running?
Pam O'Grady: The Entertainment Committee put on the first Halloween party in 2016 after many years of hiatus. It started with five of the community residents getting together to plan everything from setup, food prep, decorating the clubhouse, teardown, and clean up the next day. Now this party is greatly looked forward to by residents that have lived in the community for many years who enjoy an inexpensive night out with good friends and neighbors.
Four Star Homes: How have things changed over the last five years?
Pam O'Grady: Our Entertainment Committee has grown over the years, and we can always count on other residents to pitch in and help set up and teardown these days. It's really a wonderful community event and helps residents build friendships and bond together as a community. Now in its 5th year, the annual Halloween party is the "party of the year" that many residents look forward to; it keeps getting better each year we put it on! We host the event at the clubhouse, fully decked out in Halloween decor with backdrops and handcrafted decorations with minimal overhead to bring our residents a party they will be talking about for weeks to come.
Four Star Homes: All of the decor looks fantastic! How do you keep the costs down?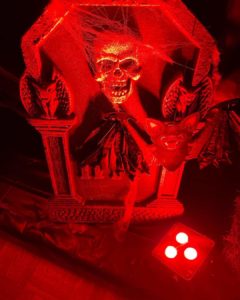 Pam O'Grady: We've gotten really good at both adding new decor and reusing old decor in crafty ways each and every year. Look closely at the decorations to see if you can figure out how we used everyday items to transform our clubhouse into a darkened wonder! You'll walk into a totally different world when you enter the doors for our now annual Halloween party. Don't be surprised if you see the same decorations at the next big party, but they won't be used in the same way again!
Four Star Homes: What else can you tell us about the event?
Pam O'Grady: This year's party was called Vampires Ball, and we always make costumes optional. That way, those who want to dress up can, and those that don't want to won't have to; we want everyone to enjoy a night out with their friends and neighbors. We had a costume contest for the best Vampire and Vampiress and Best Costume overall. We also held a 50/50 raffle. This year's party was hosted by a DJ from White Rose Entertainment for your dancing pleasure!
If you're interested in finding a 55+ manufactured home community with a vibrant social scene, contact us today! Our agents are standing by to help you find the Central Florida mobile home of your dreams.
---