If you've been thinking more and more about making a manufactured home purchase, now is the best time to do so. Here are a few steps to take in order to get started.
The buying process is not as daunting as you may think. In fact, with the right planning, budget and help buying a manufactured home can be very simple.  If you're moving across the country or to a new communities, our sales agents are especially helpful in making your journey as seamless as possible. 
1. Plan
This may be a no-brainer, but planning and viewing your options is an important first step when purchasing your mobile home. Everyone has a buyer's journey and when it comes to bigger purchases, we all want to take the time to decide which choice is right for us. 
Do some research on the area and community you'd like to reside in. You can look at all of our mobile home communities and listings to get a feel for the style of unit you'd prefer. You should also take note of the type of community you want – lots of activity and amenities or a quieter location. Our sales agents can answer any questions you may have regarding a property or its surrounding area to learn more about the experience you can expect from living there. 
2. Determine Your Budget
Another key step to making a seamless choice is figuring out the total cost you can afford. Before going through with a manufactured home purchase, it's important to identify where you will be sourcing money from– whether it be from your own funds or borrowed funds. Here at Four Star Homes, we have over 150 sales agents who can help you figure out the best route to take and provide you with some options for financing your future mobile home purchase.
3. Ask For Help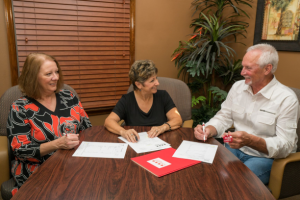 Selecting a company with vast experience and industry professionals who know the best practices will make your purchase much more smooth. You want to feel confident and safe with your manufactured home purchase, so don't be afraid to ask one of our experienced agents for help. Our agents are familiar with a variety of manufactured or mobile home communities and can tailor to your lifestyle, budget, and preferences. 
Take the steps to get started on your manufactured home purchase today! Contact one of our agents to learn more about the mobile home communities in your preferred surrounding area. We would love to help you find the lifestyle you're looking for!