Mobile home communities used to be few and far between, but now they've become a highly demanded place of living. Here's how the Spanish Lakes Country Club may be the best retirement location for you.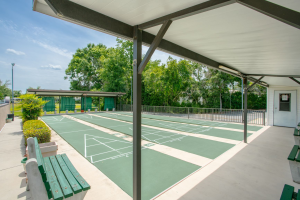 The Spanish Lakes Country Club is not your typical mobile home community. With its central location in Ft. Pierce and incredible amenities, this country club has become a hot spot for retirees from all over Florida. And rightfully so! The monthly rent range is between approximately $699 a month and includes lawn mowing 21 times a year and trash, recycle and yard pick-up once a week. Its beautiful scenery and cost-effective homes make it fun and easy to enjoy the fruits of your labor. Here's what makes it special:
Spanish Lakes Country Club Amenities 
The Spanish Lakes Country Club has amenities galore that make it an enticing option for mobile home living. Their clubhouse is a highly frequented landmark that includes an auditorium, where they host shows and dinner, clubs and activities, and fitness games! If you aren't sold yet, some of their other amenities are as follows:  
-Card Room 
-Lounge
-Pool Tables 
-Arts & Crafts Room 
-Meeting Room 
-Woodworking Shop 
-Resident & Guest Swimming Pools 
-2 Tennis Courts 
-2 Pickleball Courts 
-Horseshoe 
-Bocce Ball & Shuffleball Courts 
-Lending Library 
-Exercise Room 
-Basketball
-Laundry Facilities
-Putting Green 
-Sauna 
-Security
And so much more! 
To learn more about this great community or see current houses listed for sale, check out https://fourstarhomes.com/communities/parks/spanish-lakes-country-club 
Local Necessities 
As a retirement community, it's important to have all your local necessities in reach when needed. The following necessities are all within a couple of miles outside of the community's gates: 
-Medical Centers
-Pharmacies
-Banks
-Grocery Stores
-Hotels
-Gas Stations
-Treasure Coast International Airport & Business Park 
Things To Do 
The Spanish Lakes Country Club's promising location is surrounded by activities and things to do. If you ever get bored of the various amenities on-site (although that may be impossible!), you can find the following creature comforts in the surrounding area:
-Restaurants & Bars (tons!)
-Nail & Hair Salons
-Golf Courses
-First Data Field 
-Indian River Lagoon
-Atlantic Ocean Beach 
-Sunrise Theater 
-Riverside Theater 
-Navy Seal Museum 
-Summer Crush Winery 
-Art Galleries 
-Outlet Mall 
-Movie Theaters 
-Shopping Centers 
Community Address: 
1 Las Casitas
Fort Pierce, FL 34951
Four Star Homes is in no way affiliated with the Spanish Lakes Communities, but we highly recommend the lifestyle that they have to offer. The mobile homes provide plenty of space for comfort, along with amazing park amenities you won't find anywhere else. 
Check out our website or contact us today to get in touch with an agent that can provide you with an application form to help you find your perfect home!