Kristina Marshall
If you're living in a manufactured or mobile home or are planning to downsize to one, your space is really valuable. How do you create a nice, comfortable interior on a small footprint?
Organizing the space in your mobile home for optimal comfort and utility is your first step, and a bedroom is a good place to start. Most mobile homes have multiple bedrooms, and you can create space in each for storage and comfort. Many of these homes have more than 1000 square feet, which gives you some good space to start with.
Think Vertically
One of the best ways to maximize space in a mobile home bedroom is to use under-bed space. Also, consider a loft or bunk bed that allows you to use space closer to the ceiling. You should also consider mattress dimensions and the footprint of your bed in the room. Bed frame dimensions are pretty set in stone and not easy to change.
Think of it as a "stackable" strategy. You can roll small furniture, like folding chairs, under the bed or use that space for storing extra blankets or pillows. Floor-to-ceiling shelves or a lightweight storage loft are other possibilities.
Keep in mind that manufactured homes are not designed for the weight of a ceiling loft, so they need aftermarket fixes to install one. One opportunity to put new hanging systems in place is with the installation of a new tiled drop ceiling or similar design. Some online resources point out what's needed to hang a ceiling mount in these types of homes.
Utilize Hanging Racks and Other Specialty Storage Choices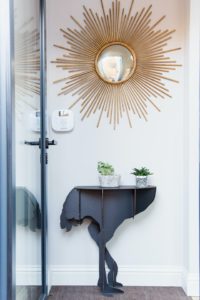 In a small bedroom in a manufactured home, hanging racks are your friend. You can anchor them to walls or other furnishings.
It's easy to get affordable designs made of cloth or fabric that have specially designed cubby holes for different things like shoes, books, papers, or clothing and accessories. Again, you're thinking vertically, using all of the available space in a corner or elsewhere in a room.
As a side tip, you can also use wall mirrors to create the illusion of more space. Better light also makes a difference in aesthetics and the way you feel in your bedroom.
Choose Furniture Sizes for Your Smaller Bedroom
This tip goes into your initial planning when you're furnishing the bedrooms of your manufactured home and looking at mattress dimensions.
Before you move in, or while you're moving items into your mobile home bedrooms, think about how they'll fit. Do some real figuring with a tape measure, not just a "guess."
This includes measuring mattress dimensions and bed frame dimensions, and how that will change the available space in your bedroom. You're probably not going to want a California King that takes up 95% of all available floor space unless you plan to spend all your time lying in bed. But you don't want to cheat yourself out of a more relaxing experience at night. So if you're buying a new bed frame and mattress, it's time to think about dimensions and whether you want a medium-firm mattress or something firmer or softer.
While you're considering this issue, you can also look for smaller wardrobes, desks, armoires, or dressers to fit into a mobile home bedroom plan.
Rollaway Furniture
As mentioned, you can keep smaller pieces of furniture under the bed until they are needed. That applies to small storage containers, seating for visitors, and more. Small roller seats can be placed under a bed and brought out when friends or family visit.
It's kind of like the Victorian era "trundle beds" with smaller bed frame dimensions — small beds that pull out to accommodate additional sleepers.
These types of designs, with medium-firm mattress tops, are still popular in cities around the world, where space is very limited.
Chances are your mobile home has more space than some of these international city apartments, but you can use the same idea to your advantage. There's also the fold-down bed (some people call it a "Murphy bed") but that may or may not appeal to your sense of style and night-time routine.
Clothing Racks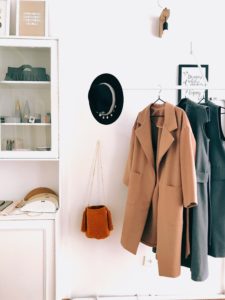 If you take the small furniture idea one step further, you can actually replace a dresser or wardrobe with a simple clothing rack.
You can fit a lot more on hanging racks than you can in a drawer. You also have the additional benefit of not having to fold everything neatly and put it in a drawer, which takes time out of your busy schedule.
These kinds of "life hacks" can save you space in your mobile home, sure, but they can also help you to get more done each day, which is important given the fast pace of modern life.
Additional Decor
Here's another tip for maximizing space in your manufactured home bedroom: skip the life-sized replica of Michelangelo's David, the big clunky lamp you inherited, or other big decorations that take up a lot of space. You might see fit to nix the large, bulky items you received as gifts or giveaways, and replace those with pictures, to "slim down" your personal possessions into collections that fit in your mobile home.
Instead of cluttering up your already valuable space, use bright, thin hangings like colorful macrame, rugs, or patterned curtains to brighten up your mobile home bedroom.
With the right style ideas and deliberate design choices, you'll enjoy having a bedroom that feels bigger and brighter.