As culture evolves, so do Orlando housing and real estate trends. We're uncovering another home-buying option that may work better for you.
Over the years, the world has put a negative stigma around the term "trailer parks." However, our team at Four Star Homes is altering the way people view such communal areas. Mobile and manufactured homes offer some competitive advantages as an alternative to traditional Orlando housing. Their easy, affordable features make them impossible not to consider.
Our website lists available mobile and manufactured homes by areas all over Florida. We have the largest inventory of manufactured homes in the state and service the following areas:
One of the benefits of mobile and manufactured home communities versus other Orlando housing and real estate options is community living. Mobile home communities, sometimes also referred to as "parks," are perfect for adults, families and senior living. The communities are highly affordable and offer a close-knit, safe environment to fit your lifestyle. We find that most people are drawn to the mobile home lifestyle because of the communal aspect and amenities.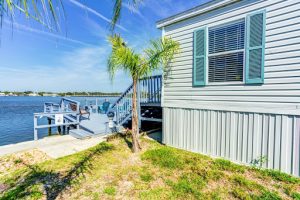 The upkeep is another reason people choose to live in a mobile or manufactured home. Because the home is already built and lot rent usually covers many things including lot maintenance, mobile homes are a great option for seniors. They require limited upkeep, but you're still able to personalize it to make it what you want.
Manufactured homes are built to comply with strict quality and performance standards and are typically situated in communities with great benefits and amenities. With manufactured and mobile homes, there are a variety of options to choose from. The build and color vary per home, which makes for a unique experience no doubt.
By utilizing Four Star Homes as an Orlando home buying option, you're trusting Florida's largest and most experienced full-service mobile and manufactured home brokerage company. We have the knowledge necessary to find you a home you're proud of.
Contact us today to speak with an agent about finding the perfect home for your budget and lifestyle. We look forward to growing our community!