If you're looking for 'mobile homes near me,' look no further. Four Star Homes has the property you're searching for!
As the largest and most experienced full-service mobile and manufactured home brokerage company in the state, we have helped hundreds of thousands of people find the right housing solution to fit their needs. From price and size to location and amenities, our agents will determine your wants and needs for a mobile home and find you options that meet your expectations. If you're looking for 'mobile homes near me,' you've come to the right place! Here's how to secure your new favorite place. 
Step 1: Browse Our Listings By Area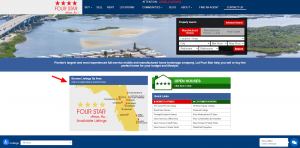 On the home page of our website, you'll see the section labeled 'Browse Listings By Area' right off the bat. We've organized these areas by surrounding cities and have the appropriate contact information within each link. Once you choose which area you're dreaming of living in, you'll be able to view all of the available properties in detail. 
Step 2: Refine Your Search By City, Park Type & More!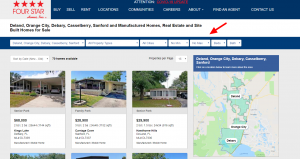 There are an endless amount of 'mobile homes near me,' so if you don't want to spend hours searching through properties, it's always a good idea to refine your search based on your preferences. For example, if you're a young adult looking to meet other like-minded individuals, you wouldn't want to waste your time viewing mobile homes in 55+ parks. Although those seniors sure do know how to have a good time! 
At the top of the page after you specify the area, you're able to refine the property types, cities, minimum price, maximum price, number of bedrooms and number of bathrooms. Take this time to really figure out the perfect layout for your situation and use the search bar accordingly. 
Step 3: Request A Showing Or Contact An Agent For More Information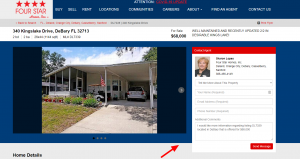 Bingo! Once you've found the mobile home that has your name on it, click it to view more pictures and details so that you have a good understanding of what you're going for. Then, on the right side of the screen, you'll find the name of the agent in charge of that property and a form to fill out to inquire about the next steps in the process. 
Here, you can either ask for more information about the property, request a showing, request similar listings, etc. If your heart is set on this particular property and you don't want to lose it, we highly suggest you act quickly before it's gone. The early bird gets the worm! 
For more information about 'mobile homes near me,' feel free to contact us today! One of our agents would be happy to hear more about what you're looking for specifically and provide you with a couple of suggestions to get the ball rolling.