The demand for 'mobile homes for rent near me' is increasing. Jump on the trend before it's too late!
Finding a new place to live takes tedious time and energy. It involves scouring the internet for somewhere in a good location that fits within your budget and offers ideal amenities you can benefit from. You're most likely looking all over Zillow and similar sites to give you the best price for apartments, houses, and townhomes. But, what a lot of people aren't familiar with is a fourth option, a low-maintenance housing option that offers a community lifestyle at a fraction of the cost. When you search for 'mobile homes for rent near me,' you'll discover why these community parks are becoming a preferred way of living.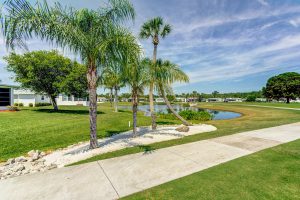 Orlando, for instance, has extensive housing opportunities both locally and in surrounding cities. From apartments to houses, there's always a high demand for securing a spot in one of the most active cities in Florida. The average cost to rent an apartment in Orlando is roughly $1,200/month, whereas a rent payment for a house costs around $1,500/month. These prices are rough estimates that vary based on location, bedroom and bathroom number and utilities included.
When it comes to apartments, you'll likely have to give up square footage and the desire to have a yard. A house is a more spacious option that does require consistent upkeep and the maintaining of neighborhood regulations. While both are great options, mobile home communities can provide both a level of privacy and community that are often found favorable.
Manufactured and mobile homes are especially popular among families and retirees, but they're also a trending home option for travelers and solo residents. Their low maintenance makes them extremely accessible and easy to keep up.
Most mobile homes are even housed in a community that offers amenities and utilities included in your lot rent. When you're looking for 'mobile homes for rent near me,' you'll want to look up the specifics of what the community offers. Many include trash and lawn care in your rent, while others offer 24/7 security. All in all, you'll be able to find a community that meets your needs.
The most important thing to consider when looking for 'mobile homes for rent near me' is the lifestyle you wish to have. At Four Star Homes, we service mobile home communities up and down Florida that provide residents with an active and inclusive lifestyle. Check out our listings for a more in-depth look at the mobile homes that are available for rent. Contact us today with any questions!