Searching for "mobile home parks near me" can help you find the lifestyle you're looking for. We're sharing what you can expect from your experience:
As the economy and cultural norms consistently shift, there are always new opportunities to find the lifestyle you're longing for. If you found this blog by searching for "mobile home parks near me" because you're interested in learning more about the doors an encompassing community can open for you, you've come to the perfect place.
But first, we'll start with explaining what a mobile home park is and how they're slowly taking the world by storm.
Previously known as a "trailer park," someone along the way saw an area of opportunity to turn these inexpensive homes into a beautiful, communal way of living. When you live in a mobile home park, you reap the benefits of living in both a home and an apartment complex with tons of amenities, but at a fraction of the cost.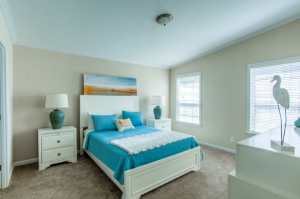 Maybe you're looking for "mobile home parks near me" because you need to downsize, you want to raise your family in a community or you're looking to retire in style. All of the above scenarios are common reasons people choose to make the cost-effective, low maintenance switch.
Each of the communities on our website are labeled by park type to ensure you're getting the lifestyle you want out of the experience. For instance, family parks are going to be filled with children and parents who are actively looking to grow up in a fun-filled community. The clubhouses located inside family parks often host activities and events designed to bring everyone together. Needless to say, there's always something going on to feed that sense of belonging.
The same goes for a 55+ community. There are amenities and activities hosted by the clubhouse as a way to socialize and meet friends. There's no better way to enjoy the fruits of your labor than by soaking up the Florida sun in a resort-style community.
Stop thinking about "mobile home parks near me" and make the move! You'll be so glad you did. If you have any questions, please don't hesitate to contact one of our agents. We'd be happy to help you find your perfect mobile home community!