Looking to retire by the beautiful, sunny Florida coast? Pelican Bay mobile home community may be your perfect match.
If sitting by the dock of the Indian River and enjoying the breeze of the Intercoastal sounds like paradise, then Pelican Bay mobile home community may be the perfect retirement village for you. This 55+ community is filled with things to do, sights to see and people to share it all with. For around $590 to $610 a month, you can enjoy all the on-site amenities with water, sewer and trash utilities included.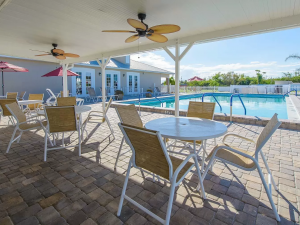 Pelican Bay Mobile Home Community Amenities 
Aside from the prime location and stunning views, the Pelican Bay mobile home community also offers a multitude of amenities that make living there worth every penny. Their clubhouse is a popular destination where you can gather for planned activities and social gatherings. If you aren't sold yet, some of their other amenities are as follows:  
-Billiards 
-Bocce Ball
-Fishing Pier 
-Horseshoes 
-Pool
-Library 
-Shuffleboard Court
-RV/ Boat Storage
-And so much more! 
Learn more about this great community or see current homes for sale.
Local Necessities 
As a retirement community, it's important to have all your local necessities in reach when needed. The following necessities are all within a couple of miles outside of the community: 
-Medical Centers
-Auto Shops
-Banks
-Grocery Stores
-Airports
-Gas Stations
Pharmacies
Things To Do 
One thing's for sure, you'll never get bored living at Pelican Bay. When you want to get out of the house and explore the area, you can go right or left out of the community to find tons of activities that are suitable for everyone. Here are a couple of our favorites: 
-Shopping Centers
-Restaurants (Waterfront, too!) 
-Salons 
-Parks 
-Sebastian Inlet State Park 
-Golf Courses 
Community Address: 
8600 US Highway 1
Sebastian, FL 32976
Check out our website or contact us today to get in touch with an agent that can provide you with an application form to help you find your perfect home! Photo Credit: Zillow