In the ever-growing city we live in, there's a constant need for more housing options. That is why Florida mobile home communities are becoming a popular housing concept.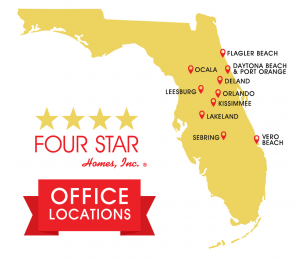 Over the years, we've seen an evolution in the real estate industry as people are prioritizing location over home features. Florida mobile home communities are making a name for themselves due to their prime locations and low-maintenance living.
As Florida's largest and most experienced mobile home brokerage company, we have quite a few counties throughout Central Florida that we serve. Below are the counties that include some of our most popular mobile and manufactured home communities:
These counties are known for their white sandy beaches and lush green foliage. They're both situated on the East Coast of Central Florida, where East Volusia has 47 miles of Atlantic Ocean beaches, such as Daytona, Ormond, Port Orange, and New Smyrna.
Flagler County is located north of Volusia and home to the beautiful Flagler Beach and Palm Coast. If you're looking for a beach house, these communities have your name on them.
West Volusia and Seminole are two counties located in between Daytona and Orlando. Within these areas, you'll find many mobile home communities, including DeLand, Deltona, Casselberry, Sanford, and Winter Springs. These counties are known for their quaint, charming cities with a lot of character.
The mobile home communities you'll find in these regions are in the heart of Central Florida. These counties are all large and spacious and have tons of entertainment and outdoor activities available. They offer an ideal lifestyle for both families and retirees.
These counties are best known for the city of Kissimmee and its ideal location in Central Florida. The wide range of mobile homes within this region are close enough to all major theme parks without being in the middle of all the noise. This area is perfect for families with an active lifestyle– especially kids who love to hang out with Mickey Mouse!
Have you ever been to Kennedy Space Center? In Indian River County, you'll be in the heart of beautiful beaches and upcoming entertainment developments. The surrounding Orlando mobile home communities located here are ideal for leisure activities and a coastal environment.
If you love to be out on the lake fishing and boating, the mobile home communities of Highlands and South Polk counties may be the place for you! Sebring, the county seat of Highlands County, is home to the oldest continuously-operating race track in the US.
Polk County is known for its sense of adventure with its gently rolling hills, cut with orange groves and freshwater fishing lakes. The Orlando mobile home communities located here are surrounded by beautiful golf courses, sporting events, and great people. It's a perfect place to call home!  
If you're looking for a budget-friendly, close-knit area to call home, check out our Orlando mobile home communities! Our experienced agents are sure to find you the perfect home to fit your lifestyle. Contact us today to get started!