If you're looking for that perfect place to relax and retire, the Aberdeen Community at Ormond Beach could be your new home. Learn more about the community and amenities it provides!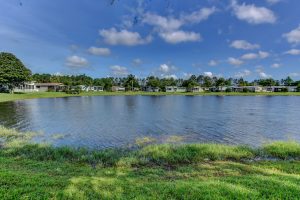 Four Star Homes is known for selling mobile homes in the most desired, inclusive communities in Florida. We believe that community-living brings about unique opportunities for people of all ages. The Aberdeen Community at Ormond Beach is a beautiful community that offers a great combination of peace and activity. It makes the perfect retirement spot for seniors 55+ looking to enjoy their freedom, without being totally secluded. Do you think it could be the place for you? Click here to see all the homes Four Star has for sale in Aberdeen.
Community Amenities
The Aberdeen Community Center features a large multipurpose room, library, fitness center, billiards parlor, media center, creative center, and social rooms to utilize to your liking. There are always ongoing activities and special events planned at the Community Center to bring residents together. It's also a great resource to enjoy with your neighbors. Outside of the Community Center, Aberdeen Community at Ormond Beach also offers:
-Tennis Court
-Swimming Pool
-Whirlpool Spa
-Bocce
-Horseshoes
-Shuffleboard
-WiFi
-Rentals
-RV/Boat Storage
-Sauna
-Security 24/7
Local Necessities
As a 55+ community, convenience has to be one of the most important factors to consider. It's vital that your essential errands are within miles of your home to ensure easy living. Here's what you can expect:
-Publix & Super Walmart- 1 Mile
-Banks- 1 Mile
-Hospitals & Medical Center- 1 Mile
-Doctors Offices- 1 Mile
-Churches- 1 Mile
-Convenience Stores- 1 Mile
-Police Station- 1 Mile
Things To Do
There are tons of things to do surrounding the Aberdeen Community at Ormond Beach. It's one of the most desired areas in Central Florida. Recreational fun in the area are listed, but not limited to:
-Shopping Centers- 1 Mile
-12 Theater Movie Center- 1 Mile
-Golf Courses (Including LPGA Players Course) – 3 Miles
-Daytona International Speedway- 3 Miles
-Atlantic Beaches- 3 Miles
-Cultural Centers- 4 Miles
-Restaurants- 1 Mile
Community Address:
50 Allwood Green Boulevard
Ormond Beach, FL 32174
Four Star Homes highly recommends the lifestyle that the Aberdeen Community at Ormond Beach has to offer. The mobile homes are cozy with low-maintenance and lawn care included. Check out our website or contact us today to get in touch with an agent that can find you your perfect home!