If you're looking for mobile homes in Florida, what are you waiting for? We have so many to choose from that are sure to exceed your expectations!
Beautiful Weather 
Living in Florida means living with sunny skies and warm weather– most of the time. What our residents love the most about living in Florida is how functional it is to get from point A to point B. When you live up North, snow and freezing cold weather can cause you to stay indoors for long periods of time. In Florida, the weather is warm and sunny 90% of the time, which makes it easy to maintain an active lifestyle! 
Cost-Effective Prices 
One of the biggest pros of investing in mobile homes in Florida is the cost-effective pricing. When compared to apartments, mobile homes are generally larger with better amenities and parking, plus a yard! They've quickly become a modern-day affordable living alternative for people looking for a community-oriented lifestyle. 
Southern Hospitality
There's something contagious about the Southern hospitality in Florida that makes living here that much sweeter. If you're considering moving down South for a change of scenery, we can assure you that our agents will be honored to serve you and show you true Southern hospitality. We treat all of our clients with the utmost respect and make finding their dream community our top priority. 
All-Inclusive Amenities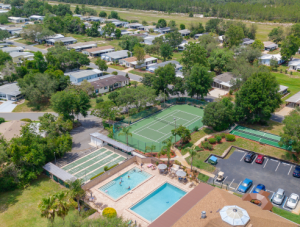 When looking for mobile homes in Florida, be sure to check out the list of amenities to find a community that speaks to you and your hobbies. Most of our communities have a clubhouse that includes game rooms, pools, tennis courts, golf courses, planned activities and so much more. You'll certainly never be bored when your rent includes endless opportunities to have fun and make friends!
The Resort-Style Lifestyle 
If there's anything we can emphasize, it's the laid-back, relaxing lifestyle that mobile home communities provide. We list our communities according to park types: Adult, Family, and Retirement. That way, you can choose the park that best fits your needs and expectations. 
If you're searching for mobile homes in Florida, allow us to lead the way! As Florida's largest and most experienced mobile home brokerage company, we have the experience to find you your perfect place. Contact us today to get started!